Irohazaka is the mountain road national highway 120 from Nikko city Umagaeshi between the Chuzenjiko Lake shore and is also known as part of the Japan Romantic Highway. The road is split into the No.1 Irohazaka for descending and No. 2 Irohazaka for ascending and the Kegon Ravine between the roads is a spectacular sight. The view of the steep surfaces of Onagi and Byobuiwa formed by collapsing sections of Mount Nantaisan covered in azaleas in the spring and maple leaves in the autumn is truly a sight to see and draws tourists from all over the country.
【Address】

Chugushi Nikko-shi Tochigi-ken

【TEL】

0288-54-2496

【Expressway entrance】

Nikko-Utsunomiya ROAD Kiyotaki-Interchange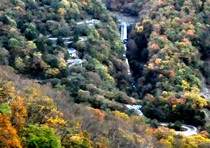 【Information】
45 minutes by Tobu bus from Tobu Nikko Station, get off at stop Aketidaira.
Autumnal leaves

The view from an obs
Spot position