Kotoku Ranch is located approximately 1.5km east of the Senjogahara Kotoku Ranch Entrance bus stop and is a 30,000 square meter ranch nestled among the Japanese larch and white birch trees. The ranch is particularly beautiful during the new spring and autumnal changing of the eaves seasons, and the sight of the horses and cows chewing on the grass is relaxing and seems like something out of a painting. Visitors can enjoy fresh milk and ice cream.
【Address】

2452,Chugushi Nikko-shi Tochigi-ken

【TEL】

0288-55-0256

【Expressway entrance】

Nikko-Utsunomiya ROAD Kiyotaki-Interchange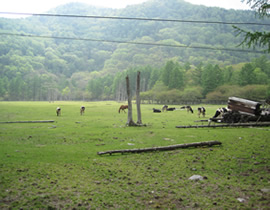 【Information】
Opening hours 8:30-16:30 Closed Open every day Fees Admission is free.
Landscape with a cow
Spot position